Best Acoustic Guitar for Beginners
Yamaha F310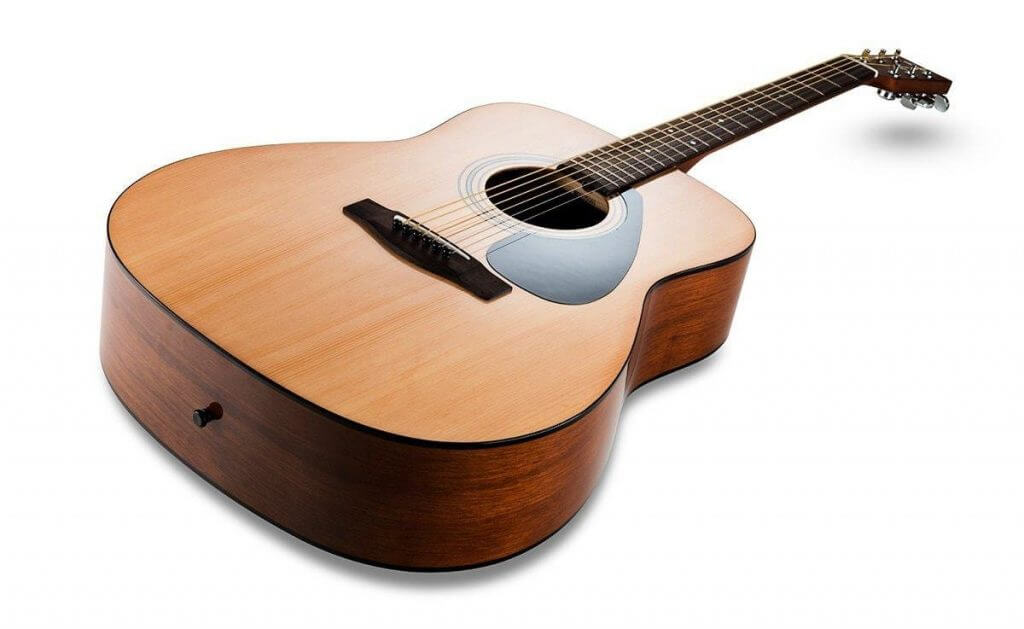 Best acoustic guitar for beginners Don't Miss this Chance… 
UK's best-selling acoustic guitar

Outstanding quality and value

Hand-finished construction

Select tonewoods for amazing sonic performance

Slightly shortened scale-length for ease of playing

Slightly shorter scale length – the F310 is unique in its class in being specifically designed to be kinder to finger tips with slightly shorter strings it means that there's a little less tension giving extra playing comfort with no loss of tone

It is precision manufactured and hand-finished to exacting ISO standards and offers the same focus on quality, design and sound as all Yamaha acoustics

The F310 consists of a spruce top, back and sides are Meranti, a Nato neck and a rosewood fretboard
Specification
In the Box
1 Yamaha Guitar
General
Brand
Yamaha
Model Number
F310 Nat
Type
Acoustic Guitar
Number of Strings
6
Body Material
Linden Wood
Fretboard Material
Carbon Fibre
String Material
Bronze
Color
Beige
Pickup Present
No
Number of Frets
18
Hand Orientation
Right
Neck Material
Maple Wood
Dimensions
Width
44 cm
Length
102 cm
Thickness
12 cm
Weight
2.5 kg
Images

Price history for Yamaha F310, 6-Strings Acoustic Guitar, Natural

Latest updates:

Rs. 8,022 - July 20, 2018
Rs. 8,400 - July 18, 2018
Rs. 8,490 - July 11, 2018
Rs. 8,114 - July 9, 2018
Rs. 8,490 - July 7, 2018

Since: July 7, 2018

Highest Price: Rs. 8,490 - July 7, 2018
Lowest Price: Rs. 8,022 - July 20, 2018
Best Deals
Rs. 8,022
Rs. 9,490
22 new from Rs. 8,011
as of July 20, 2018 1:31 am
Amazon.in
Flipkart.com


Didn't find the right price? Set price alert below
Lowest price Product: Yamaha F310, 6-Strings Acoustic Guitar, Natural - Rs. 8,022
YouTube
Review of the Yamaha F310: Beginner's Guitar Recommendations
Can't decide what should be the first guitar to get? Let me make you a recommendation: the Yamaha F310. Great sound and value for money, watch the video ...
Yamaha F310 Acoustic Guitar
Sam demos Yamaha's F310 Acoustic Guitar. http://www.gear4music.com/Guitar-and-Bass/Yamaha-F310-Acoustic-Guitar-Tobacco-Brown-Sunburst/13BU The ...
YAMAHA F310-Unboxing & Review!! + Sound Test!!(Good or Bad) Worth Buying?? BEST GUITAR UNDER 8000!!
Best Guitar Under 8000!!! BUY FROM THIS LINK AND GET AT 7649 OR LESS!!! + MORE DISCOUNT!! #LINK :- http://goo.gl/shRLJA .
Yamaha F310 - Best Guitar 4 EveryOne / Perfect Guitar /Best In Class -Hindi Unboxing / Review -
check out this guitar... https://www.kkeeplaying.com/yamaha-f310-guitar-review other cheap guitars in indian market https://amzn.to/2kGq0kK ...
Best Acoustic Guitar for Beginners
The F310 offers the same focus on quality, design and sound as all Yamaha acoustics and puts it in an incredibly package.
Spruce Top

Traditional Western Body
F310: 
Best Acoustic Guitar for Beginners
Perfect Starter Guitar
Quality and tone is the hallmark of our F series guitars (Best Acoustic Guitar for Beginners ).
Yamaha guitars have passed lots of quality checking process and strict quality tests.These works are leading to high durability and stability.
These guitars share every bit of the passion that ignites our premium ranges and are the perfect instrument for student or seasoned player alike.
F310: Best Acoustic Guitar for Beginners
Extra Details 
Body Shape :Traditional Western
Scale Length :634mm (25")
String Spacing * :10.0mm
Top Material :Spruce
Back Material :Nato or Agathis
Side Material :Nato or Agathis
Neck Material :Locally Sourced Tonewood **
Fingerboard Material :Rosewood
Fingerboard Radius :R400mm (15 3/4″)
Bridge Material :Rosewood
Nut Material :Urea
Saddle Material :Urea
Bridge Pins :Black ABS
Tuners :Die-cast Chrome(TM-29T)
Body Binding :Cream + Black
Soundhole Inlay :Black + White
Pickguard :Tortoise Pattern
Body Finish :Gloss
Neck Finish :Matt
Electronics :None
Strings :.012/.016/.025(or.024)/.033(.032)/.043(.042)/.053(.052)
Accessories :Hex Wrench
Yamaha F310
Best Acoustic Guitar for Beginners
This 44 x 21.5 x 5.5 inch, 10 pound Yamaha acoustic guitar has 20 frets, is made of mahogany, with a laminated spruce top and rosewood fretboard. The guitar may be a little bulkier than some entry level options, but it is made of quality wood which means it can still produce a decent tone – something that can't be said about several of the other cheapest options out there. The Yamaha F310 holds up well over time, but one selling point is that if it does get beat up too much, it wasn't that big of an investment in the first place and is easy to replace. For these reasons, you can see why it is a popular option for an entry-level Japanese style Acoustic Guitar.
When it comes to how the F310 feels in your hands, the neck is slender and comfortable to grip. Because it's not too wide, it's a good choice for younger players whose hands may be smaller and have a difficult time fitting around a guitar with a wider neck. Additionally, the strings on the guitar don't have tons of action – making it easy for anyone new to guitar to correctly finger chords as they build up finger strength.
Best Choice For Beginner
If you are looking for an acoustic guitar for a beginner or someone who just plays as a hobby, then Yamaha F310 Acoustic Guitar Best choice.
Add your review